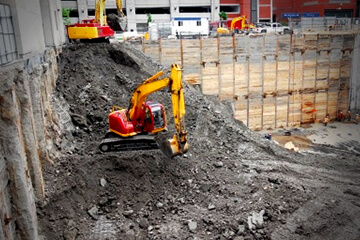 The various aspects of groundworks
If you are someone that requires quality groundworks, West London can offer you no business superior to ours. We shall undertake all forms of this work. This includes drainage and ducting, foundations, pile attendance, and more. We blend innovation with experience so clients get a professional service they will rate highly.
We use the term groundworks when talking about the work to get sub surfaces ready for construction projects. This is normally the first phase of said project. It is possible for site enabling works or demolition to occur beforehand though. The groundwork can include ground investigation, landscaping, and site clearance.
Ground investigation
Normally, this is necessary to aid you in pinpointing several things. This includes potential issues, stability, and previous land uses. Groundworks are a matter of good practice. It is also a legal requirement for the majority of local authorities. Such investigations let you gather data that you can use for effective design. You can also consider any defects you find.
Site clearance
This is part of the opening preparatory works. You will have to clean the site and take up the topsoil from the structure's footprint. For the depth, it shall depend on the lay of the land. In addition, if your site is sloping, you may need to level the ground. If the situation calls for it, you might have to erect retaining walls. This is to fashion level development platforms.
Landscaping
A great landscape really takes a property to the next level. The landscaping also includes earthworks that you use to remodel the site. It can even consist of hard landscape like the black top surfacing of car parks and roads.
The best team for groundworks in West London
Declan Moroney Construction might be a young company, but we have plenty of experience. We are one of the most passionate businesses out there as well. We have a proven record of accomplishment so every client can rely on us.
If you wish to work with the finest establishment specialising in groundworks West London has, contact us today. We can talk about your project and then help you to select the right service.